We're Sue and Evan and we are touring cyclists and commuters.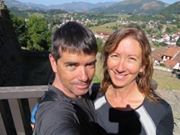 The interesting component is that we do this on a tandem. It's our preferred method of travel. Why? You might say.
every beautiful experience we have has come from our legs.
Well, almost ten years ago when we were caught up in the daily grind of work spending twelve hours each day apart, we decided we needed something we could do together. We'd always played cricket but our bodies were broken and worn out from years of wicket keeping.
On a weekend walk we saw a couple on a tandem and had a chat. The first thing they told us was how hard riding a tandem is but also how much fun it is. We were hooked, or should I say Evan was hooked. Once he has an idea in his head, there is no shifting it. So, he set about finding a tandem that we could afford. Not an easy task but eventually he came upon a Raleigh with 26" wheels and wide tyres that had been in the shop for a couple of years, an old model. Thank goodness for credit cards because the bike was immediately purchased - there was no procrastination. We set about learning to ride the tandem.
We'd ridden to school, ridden with the kids in baby seats and commuted to the train station, but this was different. We saw this as our chance to spend time together. Eventually we worked up to 55kms on the Annual Brisbane bike ride. A few cramps and a bit of pushing but we got there. We didn't realise how unfit we were. We weren't overweight but we had no cardio at all. Our next challenge was to do 100kms on the Brisbane to Gold Coast. I thought Evan was crazy to consider this but he assured me we'd be fine and that there was a sag wagon should we need it. At about the 80kms mark Evan started to cramp - severely. But he refused to get in that sag wagon. He was determined to make it and as part of a team it was my job to take more of the load and provide encouragement. We made it albeit after everything at the finish line was packed up, but that didn't matter. It wasn't just the physical achievement but the mental toughness to push through what seemed impossible at the time.
From here, I decided that it was my turn for the crazy idea and I started planning a trip to France with our tandem. The Loire Valley was our destination because our research suggested it was mostly flat. Let me assure you that the only place that is flat is the Netherlands. We are Francophiles through and through and it seemed an obvious choice to take our bike half way around the world to ride in a foreign country where we didn't speak the language. We borrowed almost everything except the bike. This included panniers, tent, sleeping bags, cooking equipment, clothes etc. Evan's cousin and his wife had taken cycling tours to New Zealand so they had plenty of gear for us to borrow.
What an experience! It was the hardest thing we had ever done but by far the most rewarding. We were so naive. We had no real concept on how to ride a loaded tandem. We didn't do any practice and on this first trip we were carrying about 40kgs of gear on a very heavy bike. There were a few tears but they were far outweighed by the experience. Since this trip we haven't looked back. We've upgraded the tandem to a Canondale road tandem and we've bought all of our own gear. In addition to the Loire Valley, we've cycled across the north of France, the midi-Pyrenees, the Rhine - Amsterdam to Andermatt, and France to Santiago de Compostela in Spain over the Pyrenees. We've ridden from Bundaberg to Brisbane, and Adelaide-Barossa-Goolwa-Victor Harbour-McLaren Vale-Adelaide, among a few other smaller trips.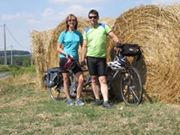 This year is Paris to Amsterdam. Why do we do it? There is no better feeling than being on the tandem together. We always arrive at the same time, can chat along the way, can help each other push through the tough times but most of all, it's the challenge of earning every kilometre we pedal, every sight we see, every beautiful experience we have has come from our legs. The freedom of being on the bike is like nothing else. We have many cycling friends - roadies, tourers and commuters. They are all beautiful people and we enjoy all types of riding with them. We have road bikes, mountain bikes, and commuters but the tandem is our preference.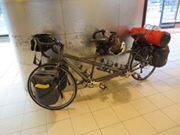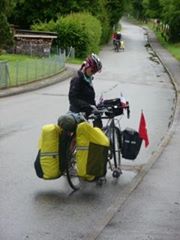 So it made sense recently after relocating back to Brisbane after six years in Toowoomba, to start commuting on the tandem. This isn't any ordinary commute. It's 32kms each way, some on busy roads, some bike path, some gardens and some CBD riding. It's a tough ride on the tandem with rack and panniers, particularly the ride home, but each time we take the bike, we save $28 on public transport. If we take the bike two days, double this to $56. You get the picture. So not only do we save money but our fitness improves, we spend more time together and we help the environment.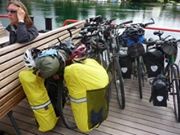 It's a win win on all fronts. Riding a tandem isn't for everyone and commuting on one is for the few of us who are crazy enough to do it.
The tandem is who we are.