Last month, at the age of 74, I participated in the longest bike ride of my life. It started in Melbourne, traversed the hills of the Snowy region and ended at Parliament House in Canberra. It was a journey of 900k with a cumulative climb was 9000m and a similar descent. I walked up the steep ascents at 5kph while my younger colleagues pedalled past me and shouted encouragement. I cautiously rode down the descents especially when on winding gravel roads. However, on one long straight steep hill I abandoned caution and flew down at 65 kph. My personal best !
I took part in the Nobel Peace Ride to show my support for ICAN (International Campaign to Abolish Nuclear Weapons) which was awarded the Nobel Peace Prize for the reasons described in the following citation:
"The Norwegian Nobel Committee decided to award the 2017 Nobel Peace Prize to the International Campaign to Abolish Nuclear Weapons (ICAN). The organization is receiving the award for its work to draw attention to the catastrophic humanitarian consequences of any use of nuclear weapons and for its ground-breaking efforts to achieve a treaty-based prohibition of such weapons.

"We live in a world where the risk of nuclear weapons being used is greater than it has been for a long time. Some states are modernizing their nuclear arsenals, and there is a real danger that more countries will try to procure nuclear weapons, as exemplified by North Korea. Nuclear weapons pose a constant threat to humanity and all life on earth. Through binding international agreements, the international community has previously adopted prohibitions against land mines, cluster munitions and biological and chemical weapons. Nuclear weapons are even more destructive, but have not yet been made the object of a similar international legal prohibition.

"ICAN has been the leading civil society actor in the endeavour to achieve a prohibition of nuclear weapons under international law. On 7 July 2017, 122 of the UN member states adopted the Treaty on the Prohibition of Nuclear Weapons."
Our little group of cyclists were carrying the Nobel Peace Prize Medallion from Melbourne (where ICAN started some 10 years previously) to the Parliament House in Canberra where we hope a decision will be made for Australia to endorse the Treaty.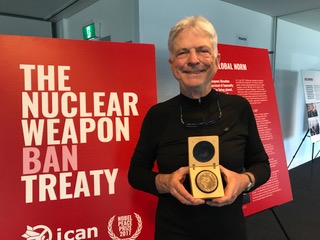 I have 10 grand-children and I want them to have long, happy and productive lives. I dont want them to live in the shadow of the Bomb because the risk of a nuclear war is as close now as it was at the height of the Cold War between the West and the Soviet Union. This risk was clearly shown in January 2018 when the Bulletin of Atomic Scientists moved the hands of the Doomsday Clock to 2 minutes to midnight…the same as in 1954! (https://thebulletin.org/doomsday-clock/)
With my warmest regards,
John