Mitigating fear, managing change and preparing to lead
By Heath Ryan
As Tuesday morning, the 16th of April and well into autumn, went from 19 degrees overnight to 29 degrees in the afternoon, I attended a meeting with David Southwick, the sitting MP for Caulfield in the Victorian State Parliament (Opposition Shadow Minister for Police and for Community Safety).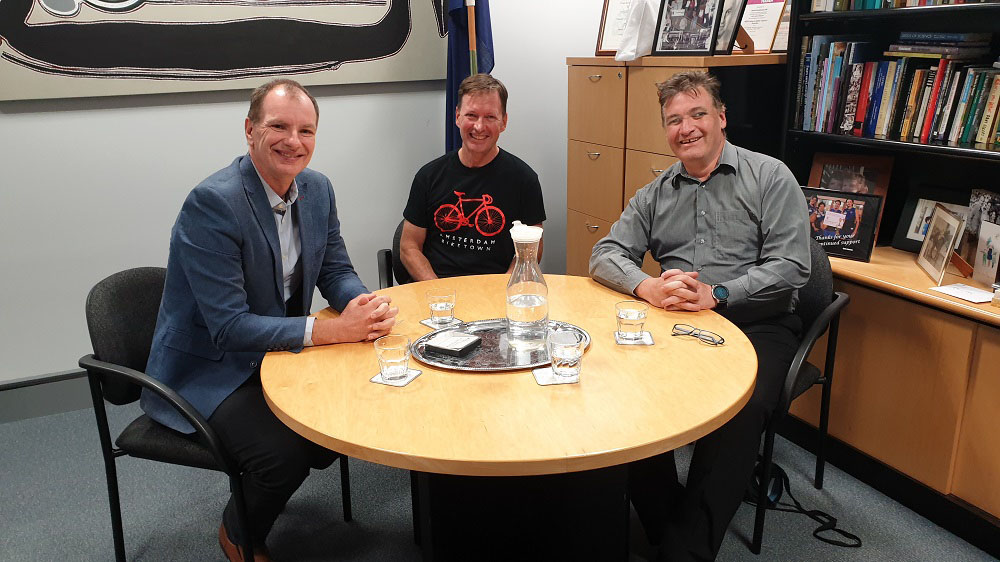 I had the privilege of accompanying Edward Hore, the President of the Australian Cycle Alliance Inc, to this meeting. The initial reason for the meeting was to discuss the social media noise around a local initiative to "Save Inkerman Road". Even before Glen Eira Council releases any firm proposals, residents are concerned about losing on-street parking as a result of a proposed upgrade to the existing bike lane, which is dangerously narrow and which puts cyclists at risk of car doorings by motorists who – either thoughtlessly or selfishly – frequently fail to look for cyclists before opening their vehicle doors.
The initial introductions went smoothly. David listened before speaking, which was great to see. David also said that he was representing the concerns of his electorate when his Facebook page posted a video highlighting the concerns of the "Save Inkerman Road" group. Their concerns included the loss of parking, and access for the elderly to essential services like 'meals on wheels' as well as family visits.
David said that there had been a community meeting and that over 400 people showed up, instead of just the 100-200 that the Council organisers were expecting, and that this demonstrated the level of concern he was responding to.
So far, so good.
Cycle agreed to consult with David and to even help facilitate research meetings with locals to get the best result for all residents as well as for commuters, regardless of their chosen mode of transport in and/or through Glen Eira Council.
Having done a bit of research, I believe that a solution is possible. I believe that David Southwick can help bring all the parties together to agree a solution that meets the concerns of stakeholders – a solution that also improves safe active transport options for Melbournians. So, while Inkerman Road does not need to be 'saved', a solution is possible that will have minimal impact on existing on-street parking for residents.
This time, that is.
It is worth noting that there are over 1,000,000 new motor vehicles sold in Australia every year (minus of course the ones that get written off when trees jump out in front of them, etc.). This equates to an additional 2,000 cars in Melbourne every month, or just under ten new vehicles a day, every day. And most of these new motor vehicles create air pollution, create pot holes and ruts, drip oil, leave glass and metal debris on our roads, and for the most part only transport one person at a time.
Before long, free and unlimited parking on public roads in inner city suburbs - bursting with amenities and close to the City - will be a thing of the past. The 1950s are long gone, and Melbournians will need to redefine how they see themselves and their city.
The meeting ended with David promising to follow up, which I am sure he will do. He seemed honest and intelligent, and was a good listener.
Then, of course, the smart phones emerged and the photo opportunities happened. And it was nice – finally – to see a bicycle in a photo with a politician. And it was also nice to see that David wasn't afraid to touch it. They don't bite!
In summary, David Southwick is not running a campaign against bikes in his electorate of Caulfield, or in the Glen Eira Council area. He is simply doing his job, which is representing his constituents. But I got the impression that he is also looking at longer term options for active and mixed-mode transport, and that he potentially has the capacity and the stomach to lead …
But before we get too exciting, David also needs to get his office to better manage the 'othering' and the 'bike hate' comments that appeared on his State Government Facebook page shortly after he posted a positive story about his meeting with Edward and me.
They included (and still include at the time of writing):
Meyer Rafael and his ignorant: "Start with discouraging Glen Eira power-drunk plan to decree Inkerman Road into a big fat bike path!"

Nay Cooper who vents: "… they [cyclists] need to be accountable for side swiping cars and pedestrians also".

Constance Lucietto who thinks [I have corrected all the grammar I could]: "Cyclists don't need support. Most I see don't use there [sic] brains and think it's there [sic] given rites [sic] to own the road." [I didn't fix all the grammar – I was having too much fun.]
Ian Hymans, who opines: "If cyclists are that important then charge them a registration fee so they can contribute to the infrastructure." [Ian, roads are paid for out of general taxation – which means all taxpayers pay for the building and the maintenance of our roads. Rego just pays for a failing TAC system and for the administration of the system that regulates motorised vehicles.)

Or Paula O'Sullivan who wants her local State MP to tell cyclists to: "… obey road rules like stopping at red lights [LOTS of cars disobey red lights and put the lives of the elderly, among others, at risk] and not riding on footpaths [legal in many progressive states of Australia but still banned by the stubborn Victorian Labor Government] and use the cycle lanes [translation: "Get out of my way, I'm more important that you"] and have lights at night [yes, the same applies to cars and trucks with faulty headlights].
However, let's not forget that social media also furnishes the opportunity to educate those:
who possibly don't have all the facts;
who don't recognise that others in our community also need to use our limited and shared resources; or
who are set in their ways and are simply against change.
For example, Bruce Kemp believes, without any reference to any facts, that improving the bicycle lane on Inkerman Road will do the following: "The most likely increase is likely to be leisure cyclists (those with the luxury of time to ride) and this is not the purpose of the proposal [that is, the Council proposal to improve the safety of Inkerman Road for cyclists who, primarily, commute to work instead of putting one more car on our roads].
And Eva Rathner just wants to see the creation of bicycle paths that allow people to ride to train stations, and then carers and family members – and young couples with babies – can visit the elderly and always find ample parking spots. But what if those cyclists live beside Eva? How will they get to these new paths? (It's okay, I think we know enough about Eva now.)
Thanks for your time, David Southwick, and I know Cycle looks forward to working with you.
#thedarkknight_writings
#inthepublicinterest
#investigativeadvocacy
#cycling
@SouthwickMP