Bike lanes always seem like a great idea. I mean, no one can cross that solid white line and take you out right?
---
---
Well as it turns out, a number of injuries every year are from Bike Lanes and the use of them by riders doing the right thing. Injury stats for riders becomes a hard number to crunch, when there are so many unreported crashes the numbers become increasingly meaningless unless you look at the straight numbers. So lets look at the dooring issue in Victoria:
Extent of car dooring
The best available data on the extent of car dooring crashes is provided by police-reported crash data:
There were 494 injuries to road users due to car dooring crashes between 2006 and 2010, of which 433 (88%) were to cyclists. These cyclist injuries represented 19.4% of all cycling injuries reported to police, constituting the most common crash type.

Of these 433 injuries, 111 (26%) resulted in the rider being admitted to hospital. These 111 hospital admissions represent 16% of all police-reported hospital admissions by cyclists in inner Melbourne over the five year period, and is the most common crash type leading to hospitalisation.

75% of car dooring collisions occurred when the driver door was opened into the path of an oncoming cyclist.

Car dooring crashes are clustered along a relatively small number of streets; 30% of all crashes occurred on four streets (St Kilda Road, Collins Street, Chapel Street and Elizabeth Street) and the most common ten streets represent 47% of all dooring crashes involving cyclists.

Females represent 37% of dooring casualties, compared with 32% of all cycling injuries. Young adults aged 18 to 29 constitute 43% of dooring casualties but 36% of other cycling injuries.

The number of car dooring crashes reported to police has increased markedly; between 2006 and 2008 an average of 63 crashes were reported to police, but jumped to 129 in 2009 and 117 in 2010.

Car dooring related crashes occur across the days of week in a similar pattern to all cycling crashes, but tend not to be as common during AM peak periods (8 – 9 am)
Source - Bicycle Rider Collisions with Car Doors - RSAGIM
Car Doorings are responsible for some tragic loss in our riding community in Victoria with the loss of several riders in the past few years:
James Cross killed when a car openned its doors in his path, throwing him under a truck. (Driver never interviewed).
John Cornish swerved to miss a door openned in his path.
And most recently - Alberto Paulon died when a passeneger got out of a car throwing him under a passing truck.

There have been others, but they get lost under the radar.
When not to user the bike lane?
Some times, the best advice we can give is to not use the bikelane at all as seen in this video.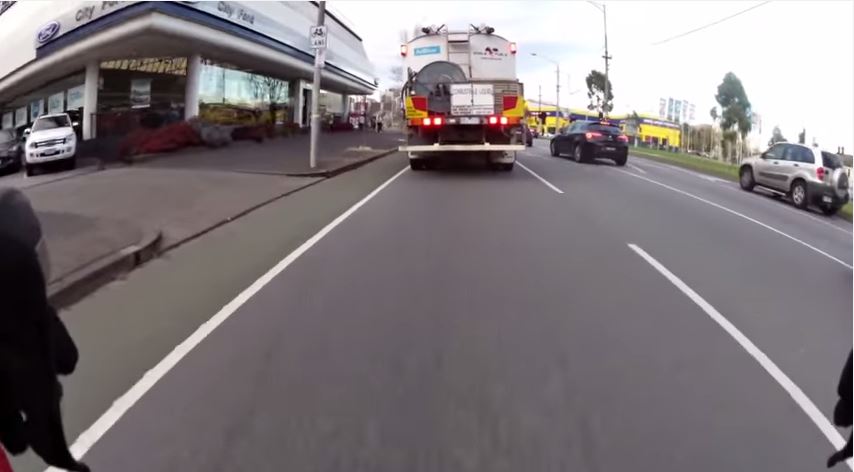 Other times you look into bike lanes and all you see is rubbish left behind or potholes, unfinished road works, even the odd dirty nappy. (like here)
Bike lanes are what they are, they are not a point of separation from the motorised vehicles, they are not a safe and protected area. What they are is a visual guide for cars to stay away from, drivers to be aware of and pedestrians not not walk into with out checking.
When Green Paint is used it is even better - for the visual cues at least. The Climbing Cyclist, Matt De Neef made a video back in 2013 on the St Kilda Rd bike lanes, and although they have improved, every thing you see in this clip still happens today, motorists need to be careful, driving beside them or getting out of their vehicles and pulling into traffic over these sacred sections of Green.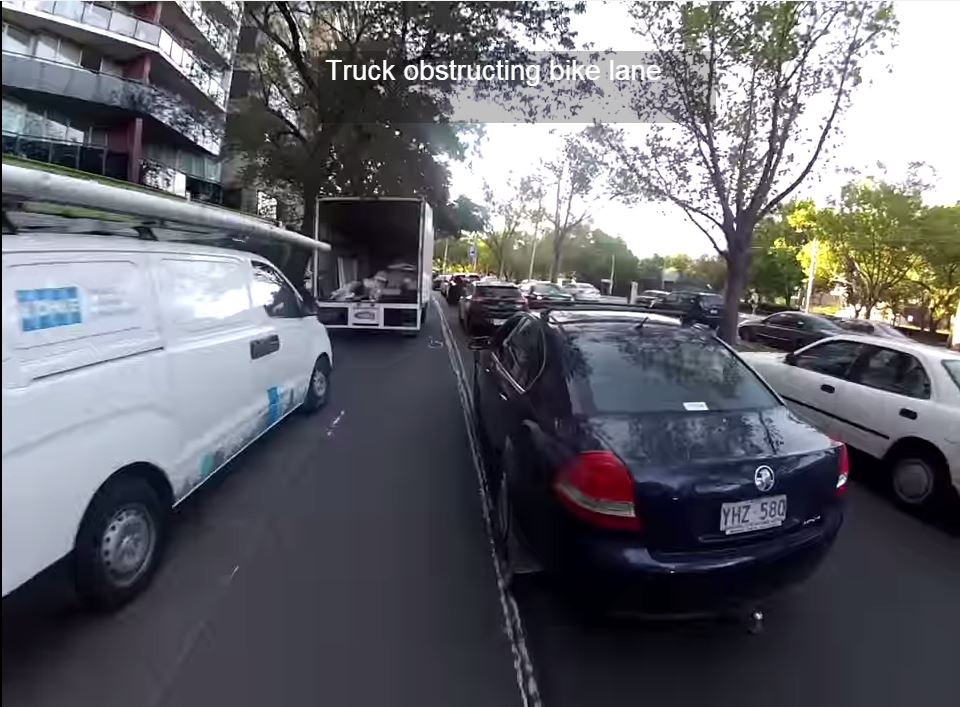 We have to accept them as we go forward, we know they will continue to be used in areas like St Kilda Rd, but what we really need to do is get the public awareness around bikelanes and to show the rest of Australia why we ride where we ride.
We will leave the last words to a video found online today on News Corp(se). Co-Existing on St Kilda Rd. We are waiting to see if this will turn into a complete article, but until it does we feel this is a message that has to get out there.