A Tale of Two Cities – Comparisons of Cycling Infrastructure between Perth and Brisbane
Written by Andrew Keith
So the Commandaneur Fatboy had a few trips to Perth for business. Not wanting to get too much fatter given that when on business travel "every night is Thursday night" (you know, on a Thursday it is nearly Friday so you might go out for a meal, and have a couple of drinks, nothing bingey but still) Fatboy hired a bike from a LBS (CAAD 8 Aluminium with Tiagra components – not bad for a hire) and went exploring.
What he found was in stark contrast to Brisbane.
On first glance Fatboy finds Perth and Brisbane pretty similar. Both are the capitals of vast states with large mining and agricultural industries. Both cities have populations around the 2 million mark (Brisbane slightly higher and Perth slightly lower) and both are built around the banks of a river. They both have a dominant central business district with commuters from far flung urban sprawl. Demographically one would therefore expect that cycling demand for infrastructure would be similar.
For construction of cycling infrastructure Perth does seem to have some advantages that a large portion of the Swan River frontage is public space, rather than private land, and the terrain is flatter and the soil sandy promoting smoother and lower maintenance paths.
It also seems to have had the advantage in transport planning with freeways and rail corridors combined (what an idea Brisbane) and many also have cycleways in the same corridor. Meanwhile in Brisbane after retro-fitting a Busway to the South East Freeway a bikeway wasn't included in the same corridor – instead we have the twisty, on and off so called V1 bikeway.
Many bridges had cycling decks underneath the main traffic decks, not just on one side but both sides.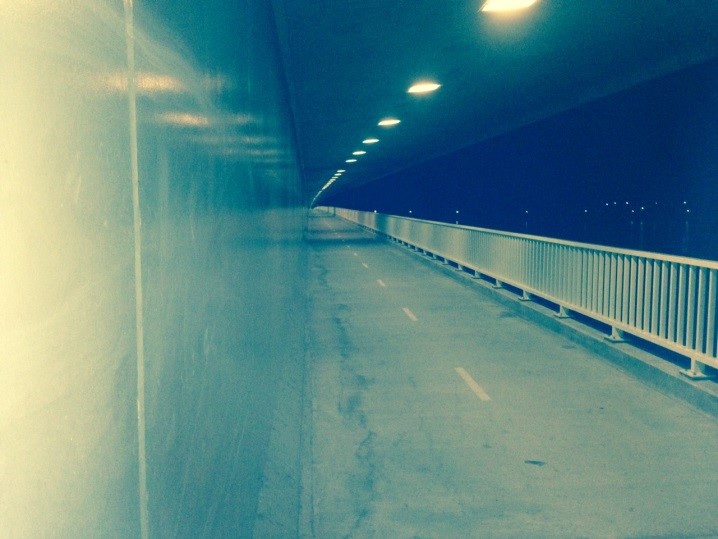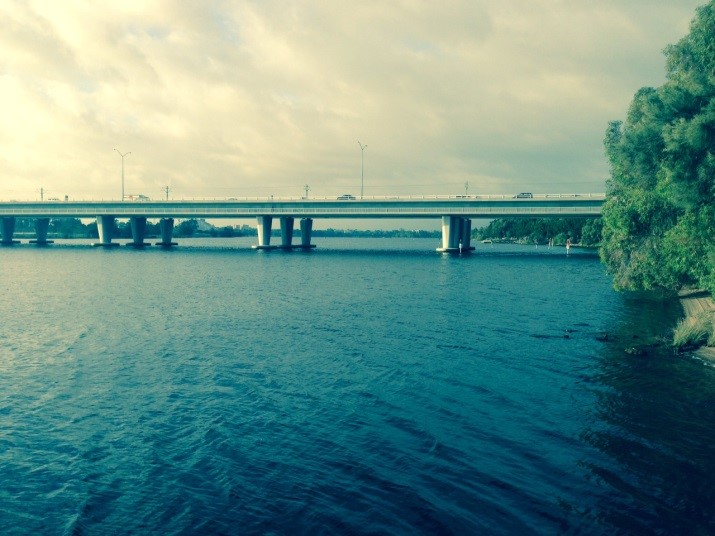 Fatboy cycled from the city west to the West Coast Highway and  then 30km north along the coast and through the sand dunes to Joondalup – with the opportunity to ride on smooth, wide relatively straight bikeway all the way. So pleasant and picturesque was the riding that Fatboy only turned around when the path ran out at a sand hill. Compared to Brisbane's on again – off again Moreton Bay Cycleway it was vastly superior. So was the Indian Ocean, beaches and headlands though Moreton Bay will always come off second best there no matter how good the cycling infrastructure.
Sandy soil notwithstanding almost without exception every cycling path was 3m wide, smooth asphalt, often of red colour to differentiate from the road and with clear line markings and good signage.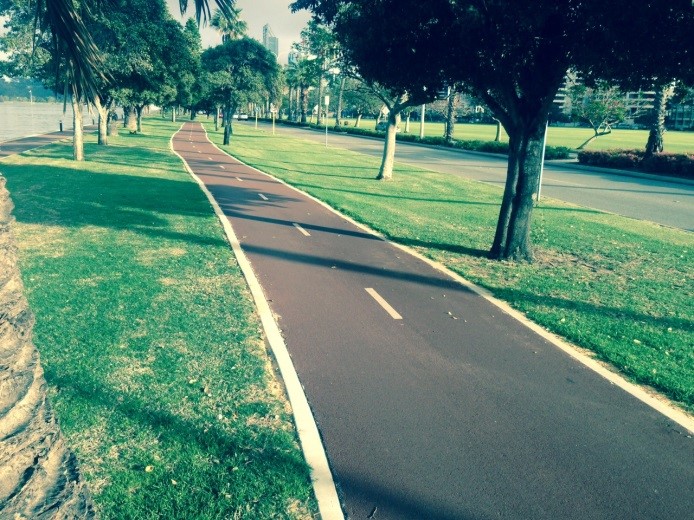 In contrast Brisbane bike paths are a very mixed bag in material, width and quality and line marking and signage is relatively poor. Indeed it is the Commandaneur's opinion that to design bike paths in Brisbane one needs the qualifications of not having ridden a bike since childhood, so windy paths for no apparent reason are much more fun than direct paths, and an addiction to "bike bananas" in an effort to injure as many cyclists as possible (not a single example of this abomination was sighted in Perth).
In short Perth has some natural advantages, but it more than makes the best of them. The Fatboy would far prefer to ride in Perth than in Brisbane, unless he is looking for a mountain to climb.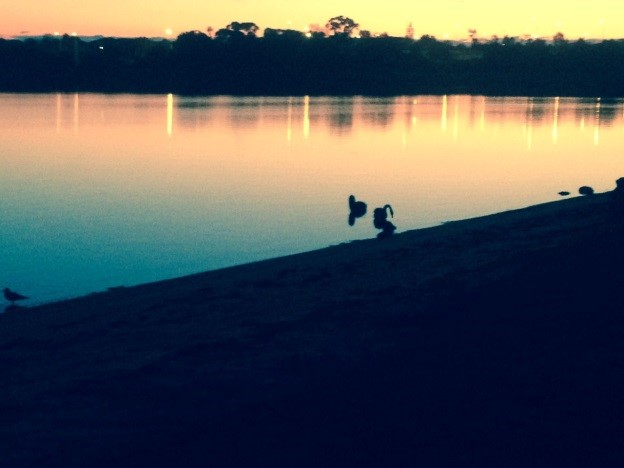 Swans on the Swan River as the sun rises