THE VICTORIAN GREENS HAVE CALLED FOR SAFER CYCLING
Today in Parliment the Victorian Greens have asked for #AMetreMatters safe overtaking laws to be introduced.
Follow this to the Greens Page: A METRE MATTERS FOR BIKE SAFETY
Go here to sign the petition for Parliment: A METRE MATTERS PETITION
Currently, Victoria's road rules give 'guidance' about overtaking bicycle riders: 'Be patient and give bike riders a clearance of at least one metre when passing them, more if travelling over 60km/h.'
 According to the Victorian Government's website, as part of its Cycling into the Future 2013-23: Victoria's Cycling Strategy, VicRoads is currently reviewing the Victorian road safety road rules and road safety legislation. VicRoads says it expects to provide the Cycling Road Rules review to Government in early 2015.
Samantha Dunn MP of the Victorian Greens has introduced new laws to Victorian Parliament that are based on the Amy Gillett Foundation recommendations for safe cycling. Under the proposal, motor vehicles overtaking a bicycle rider will be required to allow:
A minimum 1 metre buffer on roads with a speed limit of up to 60 km/h
A minimum 1.5 metre buffer on roads with a faster speed limit.
Across the country, governments are moving to create safer roads for riding bikes. Queensland started a two-year trial of minimum distance passing laws in April 2014. South Australia and ACT governments are preparing to start 'metre matters' trials. The WA parliament is currently debating metre matters legislation tabled by Greens MP Lynne MacLaren.
Under the proposed bill, drivers overtaking bicycle riders may move in the same way as if they were avoiding an obstruction of the road, for example:
move to the right move out of their marked lane
move from one marked lane to another marked lane by crossing a continuous line separating the lanes
drive on or over a continuous white edge line on a road.
For more information follow this link: http://cycle.org.au/FAQs_OneMetreMatters_S_Dunn.pdf
An explaination of the bill can be found here: http://cycle.org.au/Samantha_Dunnn_A_Metre_Matters_Ex_Mem.pdf
In Social and Traditional Media
Social media was set alight last night with The Age and The Herald Sun releasing The Greens media release early. This caused a large number of media outlets to contact cycling groups all over Melbourne.
As part of that, ACA was contacted and agreed to be interviewed by a number of outlets, starting with 3AW, talking to Neil Mitchell we discussed the ins and outs of how easy it is to use this legislation (if accepted into law) to help drivers move safely around bicycle riders.
3AW Story is here: http://www.3aw.com.au/news/greens-propose-one-metre-buffer-zone-for-cyclists-20150318-1m1n9q.html
It was a little sad to hear a driving instructor say that his pupils and himself could not judge a metre distance, it is sadly defeatist and leaves open the lack of skills there must be in training new drivers. The width of any car should be known by the driver, but maybe that explains the issues we see with people trying to parallel park in our cities.
Each time we were interviewed today, it was more of an education into giving drivers an extra rule to help them move more safely around vulnerable road users on bicycles. The one metre rule is not taking away from the road, nor is it stopping the 99% of good drivers on the road, it is about giving drivers another option to pass safely.
Channel 9 with Laura Spurway covered the story several times, this is the  6pm News Article.
How to sell #ametrematters
The general idea held in the beliefs of the motoring public is they are about to lose a metre of road every time they come upon a cyclist. This is not true. The truth is they are gaining an entirely new lane, the one they were not allowed to use before.
The Laws in Victoria currently state you can not legally cross a double line, solid line next to a dashed line or a continuous solid line, even if you were overtaking farm equipment or passing livestock. Yet every day country people have had to do this. City 'folk' have been told it is dangerous to cross this line ever, and that is correct in the case of overtaking other fast moving traffic, or if you can not see the road ahead, so nothing changes here.
But if you are approaching a group of riders that are not going as fast as your car or the limit dictates and it is safe to go, once you ensure you can pass safely, you can traverse the centre line to safely overtake.
As seen in our post about overtaking bicycle riders that choose to ride 2 abreast, sometimes it is quick and safe to do so by leaving your lane and moving into the other lane.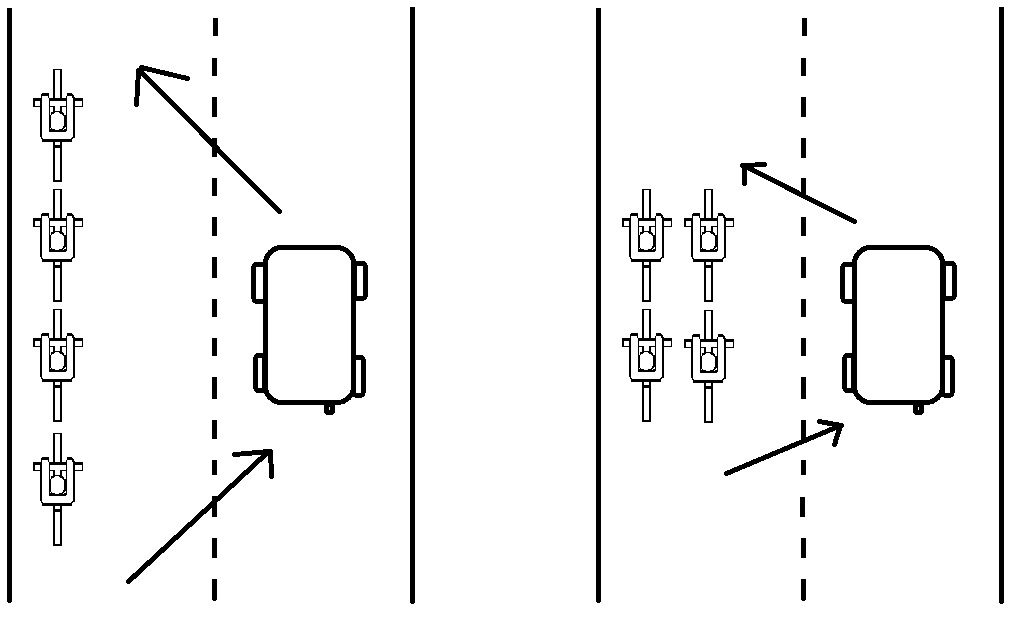 This video clip from Safe Cycling Ireland shows how easy it is to do so.
The above images show how to overtake by leaving the current lane and moving to the other side of the road to pass. This ensures we all get home alive.
In Tasmania, there is no legislation, but a clarification and de-criminalisation of the overtaking law. This has lead to a reduction in confusion, car drivers now know and accept they are allowed to overtake by going over the centre line when safe to do so.
The fallacy that there will be thousands of head-on collisions and that the roads will be gridlocked is also wrong, we have seen in US states, and especially in European countries that there is no extra strain on the road, just safer driving around people on bikes. In Queensland there have been no reported head on collisions, and the instance of dangerous driving around cyclists is reducing.
In conclusion
The Australian Cycle Alliance supports:
The proposed bill in Victoria for motor vehicles overtaking a bicycle rider to allow: - A minimum 1 metre when travelling below 60 km/h - A minimum 1.5 metre when travelling at speeds above 60km/h.
The Model Australian Road Rule 144a to be made consistent across Australia.