- A look through the eyes of someone riding a bike.
Introduction
Brisbane:
1300km of Bicycle Facilities
Highest spending capital city in the country on bicycle infrastructure
Has a cycling membership organisation that has regular meetings with the council.
Has largely excellent weather and a largely flat enough terrain to get people where they want to go.
World Class Segregated Bikeways
Delivery of more than 100 bikeway projects over the last 4 years.
By all the information we get from "Team Quirk", you could be forgiven for believing Brisbane is a cycling Mecca.
It should be.
And yet… It most certainly is not.
Before I dive into the numbers and some background, I am going to posit my theory of what underpins the failures and THIS and previous governments local and state to some degree.
Root cause:
Most governments, local and state, especially "Team Quirk", are perfectly OK with spending money on infrastructure to support cycling.
What they are not happy to spend is "political capital". This is the commodity that gets them elected or removed from government. Expending this scares them. They save it up for the big issues.
Team Quirk (and others) will build massive bridges, bike paths, tunnels, etc for bicycles to get around as long as they remain conveniently out of sight and out of the way of the motoring public. If you discuss taking some space from roads that could otherwise be used as a lane for cars or car parks, then they will get political pushback and are unwilling to do it.
If any government is actually serious about increasing the modal share of bicycles (And there are a LOT of good reasons to do so) then they must address the safety issue head on. What we know from research is that about 60% of people who would otherwise cycle do not because of concerns for safety issues.
Roads are ubiquitous. They are almost everywhere that we can find people. We allow them to dominate our urban landscapes because that is what we believe we need to "get around". The ubiquitous nature of roads means there is no getting around them. If you want bicycles to go a lot of places, then they must go on roads.
These roads must be configurable to address all of the common uses where they are required. Clearly not enough roads are configured in a way that supports bicycles yet.
The Bicycle and similar vehicles which should be heavily used, aren't because our current road networks (and footpaths) are not often built to accommodate them properly.
This is simply and clearly evidenced by several European countries and even Australian cities that have reconfigured even small numbers of streets.
What should governments do?
In order to get more people cycling and increase cycling modal share, Team Quirk or any other future council or state government MUST reconfigure roads to include options that make even cycling novices feel safe whilst riding on them. This has been shown to work in Europe and several Australian and US cities.
If they do NOT do this, they are treating cycling as a minority "hobby" to be placated but not actually encouraged or supported. They do not see it as a genuine enabler of healthier, happier more mobile communities.
Clearly this is not something that can be ubiquitously done by ANY government, political will or not but it is absolutely possible to address the highest priority sections of infrastructure and include correct configuration on new roads/reconfigurations in the future.
It is certain Brisbane has huge issues with bicycle Infrastructure being completely missing in built up CBD areas and in most of the outlying feeder areas for commuting and has limited, if any, cycle paths for traversing between areas outside of the city.
Evidence we have a problem:
- Modal share figures: Brisbane's Modal share for Bicycles is hanging around 2%. The Brisbane City Council keeps resetting lower figures, has already missed its 2.5% mode share target by 2016 and doesn't look like achieving its 2026 target unless things drastically change.
- 1300km of bikeways: The kindest way to say this is that under the Team Quirk administration, a massive increase in the amount of bikeways in Brisbane has been achieved by redefining "bikeways".
In real terms, the figures for safe separated bikeways is around 28km with some 58km of informal off road and 399km of pathways shared with pedestrians. 417km of pretty pictures of bicycles on roads accounts for a fair portion of the infrastructure. More detail in the CBD BUG post linked.
- Bicycle Queensland: Bicycle Queensland is an interesting entity in Queensland. They have a large membership base (due mostly to their very good value bicycle insurance product) which can very well justify their ongoing, strong working relationships with both local and state governments in Brisbane.
They are well funded from memberships and events and, in recent times, have shown they can produce some pretty good cycling advocacy. This has been demonstrated by their funding of the Gabba link proposal and their Election Priorities document which was overall, a pretty good effort.
They also have the ear of governments as they have regular meetings with both Brisbane Council and State Government. There is a representative from BQ representing bicycle riders and RACQ representing people who drive cars at every formal event that happens at a local or state government level.
Sadly, so often Bicycle Queensland silently nod agreement with government policy which is absolutely not conducive to getting people onto bicycles. We hope this will improve. There are early signs that it might. Brisbane certainly needs better representation that will publicly articulate the case for people riding bikes. At this stage, Space4Cycling Bne seems to be the only Brisbane based organisation doing this effectively.
- Recent BCC Bicycle projects: The Brisbane City Council has completed several cycling projects of recent times.
http://www.brisbane.qld.gov.au/traffic-transport/roads-infrastructure-bikeways/completed-bikeway-pathway-projects
Overall, most of these projects have been "polishing" existing, largely functional infrastructure that really didn't need an upgrade.
To be clear, I generally don't have an issue with the Infrastructure created. I just wouldn't have prioritised these works as the best value for money changes that could have occurred. I would have had on road cycle paths created in the CBD or on key roads such as Annerley Road, Sylvan Road and many, many others throughout Brisbane.
- Guyatt Park bikeway upgrade - St Lucia
The existing infrastructure worked fine and had done for many years. This change perhaps makes the bicycle path a bit better defined for pedestrians. I don't know that there were many or any incidents that would justify this upgrade though.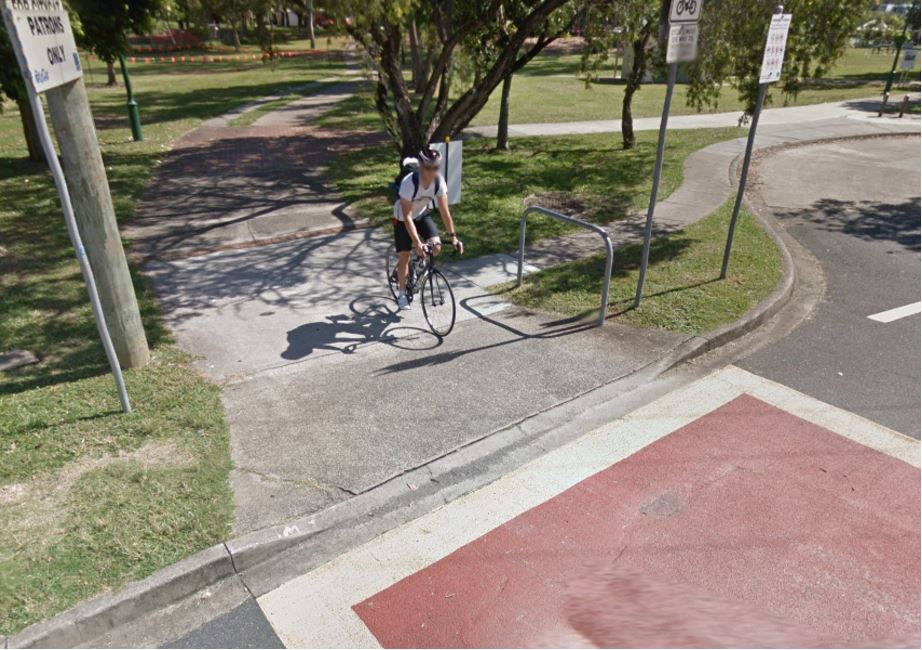 - MacQuarie Street Cycle improvements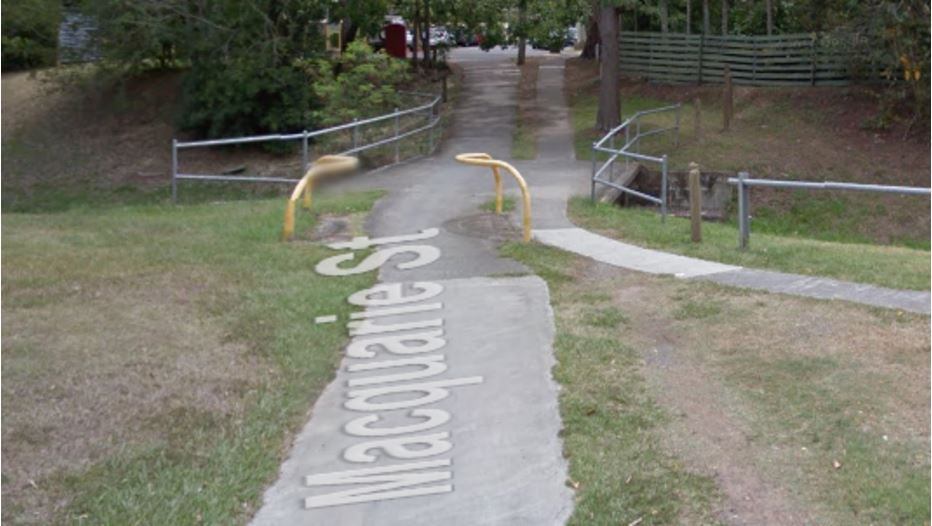 - Little Dock Street Safety Improvement Project
This project is truly bizarre. This one is described as a safety upgrade but instead REMOVES some separated cycling infrastructure and throws bikes out onto roads protected by… BAZ!
Not only that, but they have created a conflict point where bicycles exiting the path can easily have a head on collision with bicycles continuing down the road on the opposite direction. This happens regularly.
This is Space4Cycling BNE's take on this one:
https://www.facebook.com/space4cyclingbne/posts/1717029758543167
Moggill road bridge - Former LNP TMR initiated
To highlight that this sort of project is not limited to Team Quirk, the Moggill Road Bridge stands as a testament to odd but interesting spending by the last LNP state government.
This bridge cost $10 million and saves cyclists a 2 light crossing of the busy Moggill Road. Again, brilliant infrastructure but is it more valuable than say the 7km of Springfield bikeway removed by that same government?
http://www.brisbanetimes.com.au/queensland/bikeway-axed-for-centenary-motorway-widening-20121010-27d4n.html
Summary
In summary, Brisbane seriously needs a government that will:
acknowledge that getting people riding bicycles is a goal that is a worthwhile goal that is worth spending some political capital on
dedicate on-road space to give people on bikes a complete, safe route to get to work/school/shops when they need to, not during "peak hours" or similar.
prioritise bicycle projects to deliver value to bike riders who need infrastructure to ride.
Governments around the world are learning these lessons. The Lord Mayor of London, Boris Johnson, a right wing, Conservative Party Mayor is now speaking publically how he regrets not being more aggressive about putting cycleways in in London.
http://www.itv.com/news/london/2016-03-03/boris-johnson-admits-regrets-over-early-bike-lane-experiments/
Which political parties will deliver this if they win the local election this year in Brisbane?
LNP: I very much doubt it unless they have a massive change of tune.
Labor: Perhaps. They have promised a couple of interesting projects in the Brisbane CBD but have not nearly come to the realisation that we need to make pretty major configuration changes to some roads in Brisbane. It is encouraging that the Labor policy is to create a forum with Bicycle User Groups. This holds some promise.
Greens: If, by some miracle the Greens did win government this Saturday, their cycling policies look amazing. Most of them are as per designs done by Space4Cycling Bne so in many cases, very well thought through.
Good luck with your vote this Saturday.
Murray
---